Face screws, Edge screws, and Hidden Deck Clips: Learn the differences between these fasteners to decide what to use for your deck build.
When you're building a deck, you likely know what kind of board you want to use. But have you put much thought into how you'll fasten it? Sure, using any old screw could do the job, but it also might mean you'll spend more time replacing boards down the road than enjoying the deck. Learn more about three types of fasteners— face screws, Edge screws, and hidden deck clips —so you can make the right choice for your project.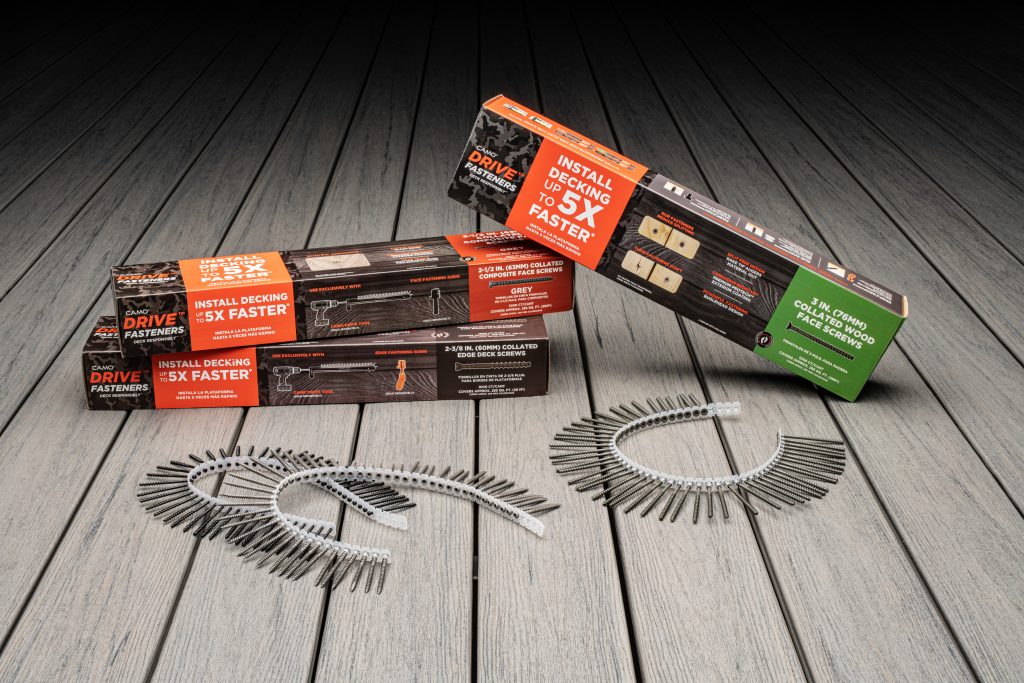 Face Screws
Tried and true, face screws are a traditional fastener for square deck boards. For wood boards like pressure treated, cedar, and redwood, you can use a buglehead deck screw, which is designed to keep the board down but is also very visible on the deck top. 
For square composite or PVC decking, there are color-matched composite screws that blend into the deck surface. These screws typically feature a double slash point to auger board material for fast driving and a shank designed to reduce mushrooming, giving you a clean finish. 
While face screws are cost-effective, they can cause splitting and cracking, which ages your deck prematurely. Consider using a face screw engineered to reduce these risks, like CAMO® Collated Face Screws for pressure treated wood and composite. A bonus for these collated screws? You can install them quickly and comfortably while standing with the CAMO DRIVE® tool. 
Finally, using the correct coating or alloy for your project is essential. For example, a carbon-coated face screw will be fine for pressure treated, PVC, and composite decks in temperate climates, but use corrosion-resistant 316 Stainless Steel screws for cedar, redwood, hardwood, and installations near water.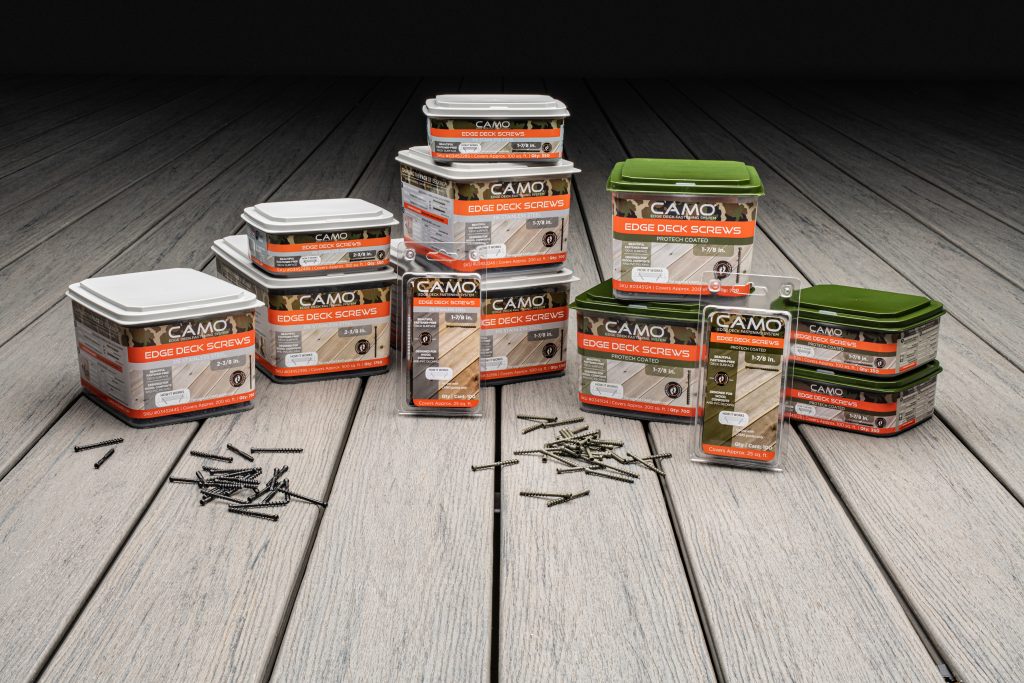 Edge Screws
If you want to maximize the longevity of your square deck boards and keep the surface clean from fasteners, use CAMO Edge screws. These screws, as their name suggests fasten the board through the edge, making a strong v-lock connection into the joist. Additionally, they feature a patented rake tip that augers board material, so you don't need to pre-drill holes on pressure treated wood, cedar, redwood, and uncapped composite decking before fastening. They are available in CAMO's proprietary PROTECH™ coating and 316 Stainless Steel so that you can use them on any deck building project. 
Edge screws are available in hand drive and collated options. Use hand drive Edge screws with MARKSMAN Tools that clamp to and space the boards and act as a guide, directing the screw into the board's edge. Use collated Edge screws with the CAMO DRIVE tool for pressure treated installs in no time.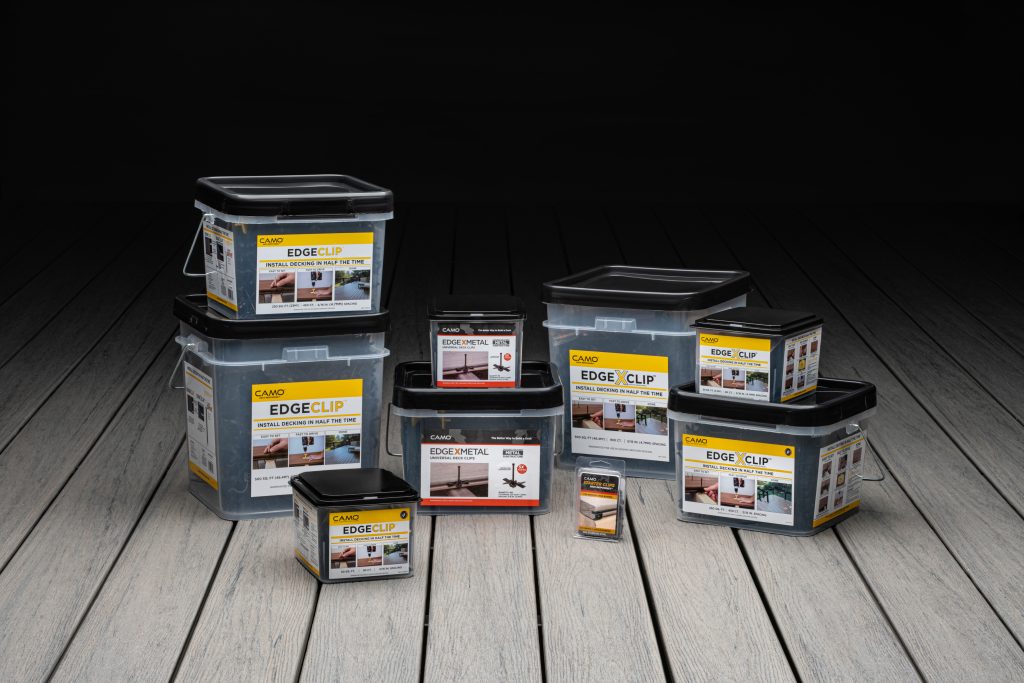 Hidden Deck Clips
Use hidden deck clips for any grooved deck board installation. Similar to face screws, there are many options, but CAMO Universal Deck Clips top the list. Why? Unlike many clips where you have to partially install them, place the next board, then drive the clips the rest of the way, CAMO EDGE® Clips (90° deck patterns), EDGEX® Clips (any deck pattern), and EDGEXMETAL® Clips (steel framing) are one-pass fasteners. That means you put them on the joist or in the board's groove, and they stay in place so you can set multiple rows of boards before fastening, which is a significant time-saver.
Additionally, CAMO Universal Deck Clips are up to 88% stronger than competitors' clips in reducing lateral movement and up to 50% stronger in uplift holding power, thanks to the stainless steel gusset that locks the boards down. They are also easy to fasten with the NEVER-MISS™ Guide that comes in every pail and directs the driver bit onto the screw head, or while standing up with the ClipDRIVE or DRIVE tools that can make your job up to 5X faster as you can quickly move from joist to joist.
To build the best deck possible, don't just use any screw to secure your decking. Instead, think about the finished result, then pick up the right CAMO fastening system to make your work smarter, faster, easier, and better.