CAMO has systems to help you build a better deck—but what's the best one for your job?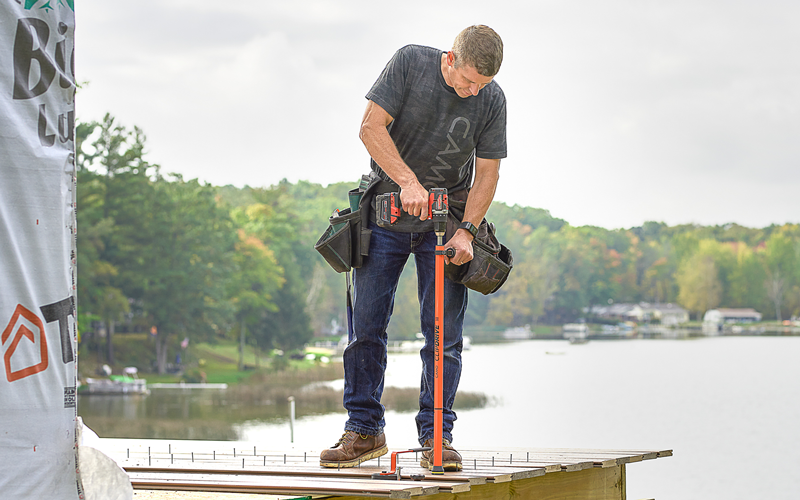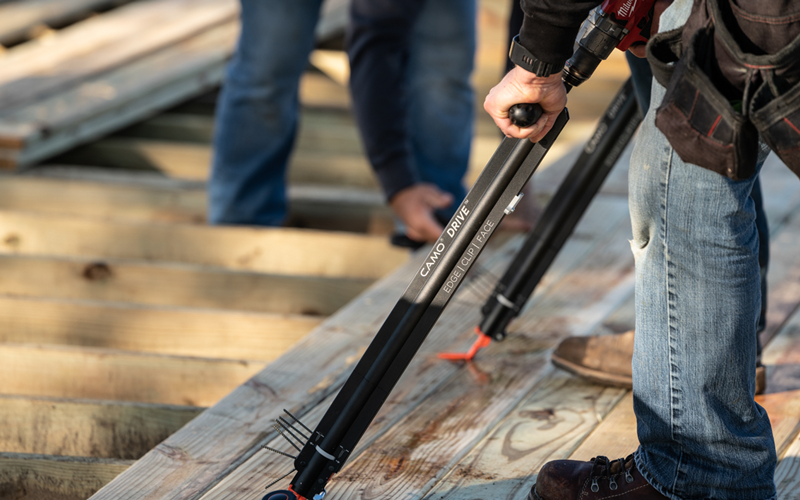 You're a hard worker, but that doesn't mean you'd choose to work harder than you have to. Instead, you're likely to pick up fasteners and tools to help you get the job done quickly so you can tackle even more projects.
At CAMO, we recognize your work ethic and have created innovative deck fastening systems to make your work even smarter, faster, easier, and better. But which deck fastening system is the best for you? Let's compare CAMO's ClipDRIVE®, DRIVE, and MARKSMAN Systems to see which suits your job.
CAMO ClipDRIVE™ STAND-UP DECK CLIP FASTENING SYSTEM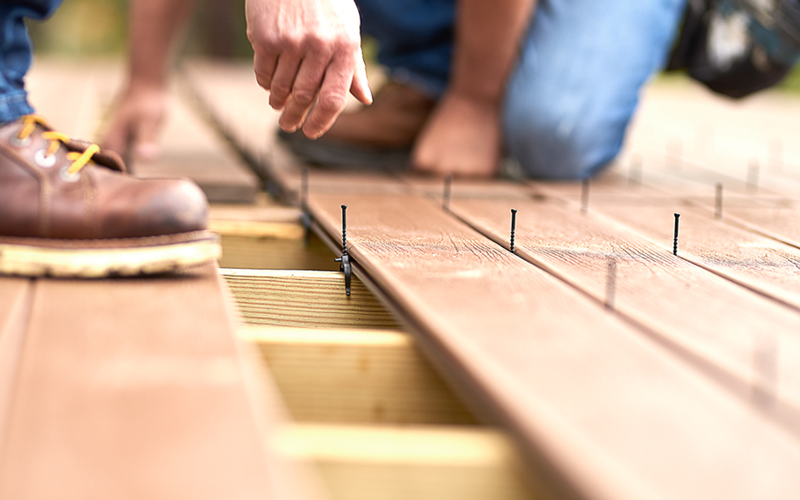 Set Rows of Clips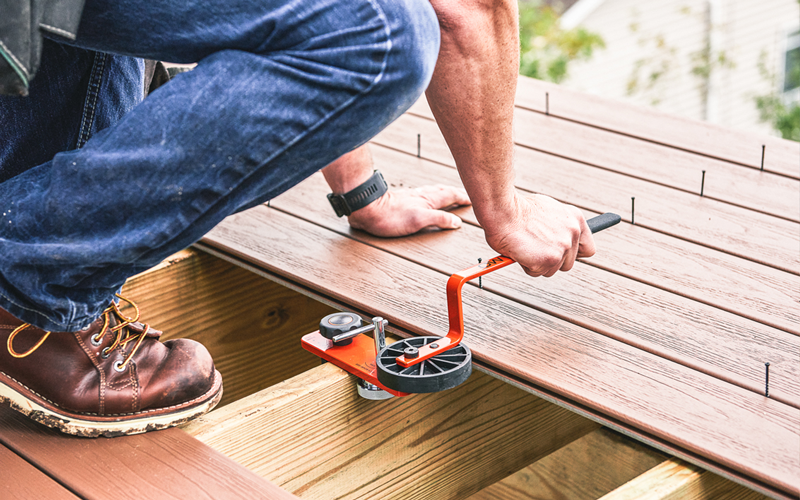 Lock boards in place with Lever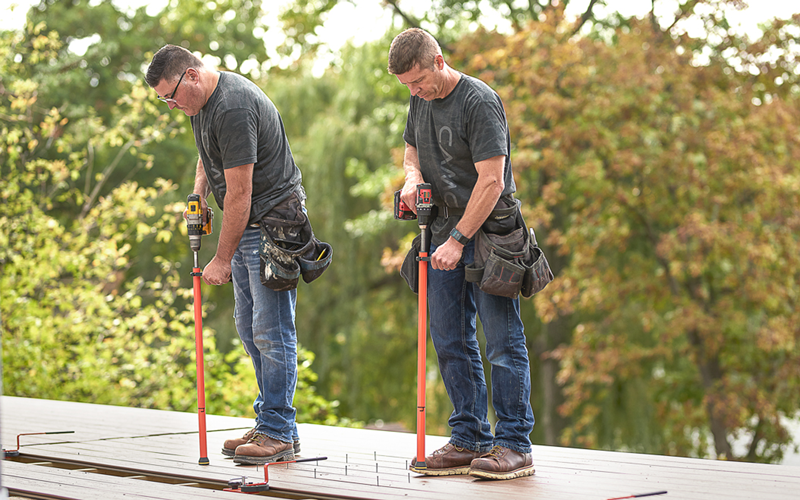 Fasten Clips with ClipDRIVE
If installing grooved decking is your forte, the CAMO ClipDRIVE stand-up deck clip fastening system is a must-have to maximize productivity. The system includes CAMO Universal Deck Clips that work with any grooved deck board and the one-of-a-kind ClipDRIVE tool.
CAMO Universal Deck Clips are available in EDGE® Clips for 90° deck patterns, EDGEX® Clips for any deck pattern, and EDGEXMETAL® Clips for installations on steel framing. They are one-pass fasteners, which means you place them on the joist or in the board's groove and they stay put without partial installation. That way, you can set multiple rows of boards, lock them in place with the CAMO LEVER® tool, and fasten a field at one time—a significant time-savings.
While you can fasten clips with the included NEVER-MISS™ Guide, you can speed up your installation even more by using the ClipDRIVE, which was exclusively designed for CAMO Universal Deck Clips. This innovative tool is simple to assemble, attaches to your drill, and is the perfect fit for your whole crew thanks to its height-adjustable handle. With its lightweight design and weighted nose, you can easily swing the ClipDRIVE from joist to joist, quickly targeting screw heads, while the no-mar nose protects the board from rings or scuffs. ClipDRIVE also reduces arm fatigue since there's a short distance to compress the drill while fastening. Long story short, if you want to have the best experience fastening grooved decking, ClipDRIVE is the answer.
CAMO DRIVE™ STAND-UP 3-IN-1 FASTENING SYSTEM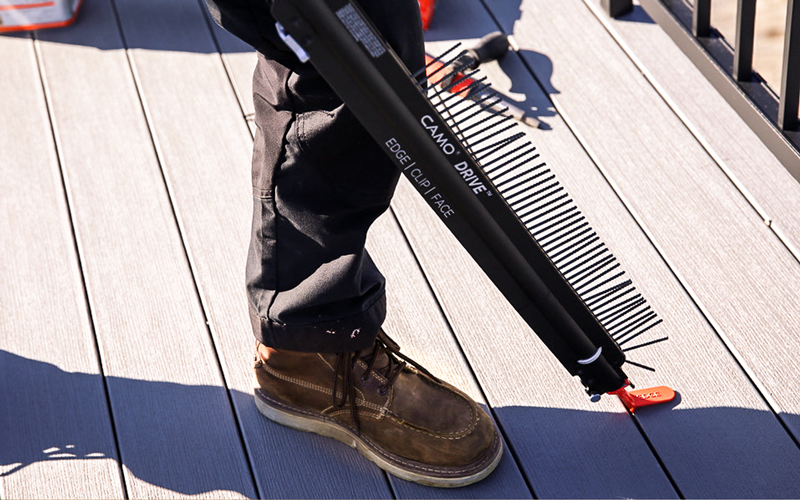 edge fasten with drive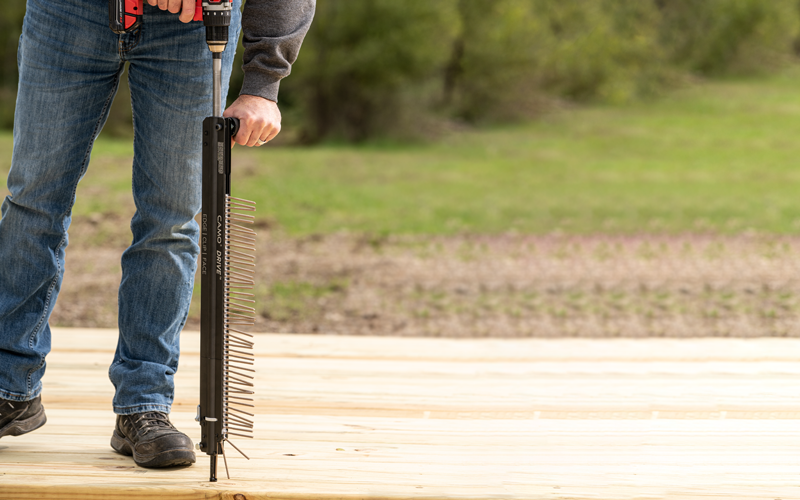 Face fasten with DRIVE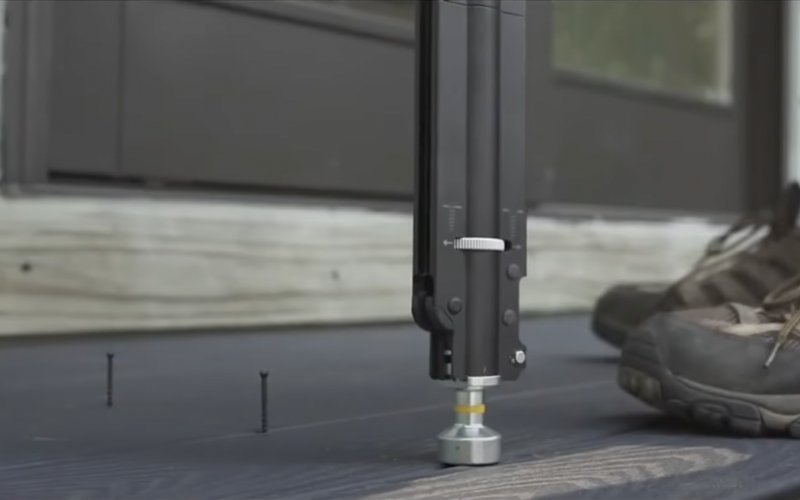 Fasten clips with Drive
If your crew takes on various decking projects, the award-winning DRIVE stand-up 3-in-1 fastening system is right for you. This affordable system delivers reliable speed and comfort on the job as you install better-performing CAMO Collated Edge Screws, Collated Face Screws, or CAMO Universal Deck Clips in no time.
DRIVE is easy to set up: install the bit and nose piece for the type of fastener you're using, attach your drill, and load the screws in the tool or place the clips in the boards. Then, you're ready to quickly secure the boards with CAMO's premium fasteners.
To achieve a fastener-free surface on pressure treated, cedar, redwood, uncapped composite, and PVC deck boards that won't crack or splinter, use DRIVE with CAMO Collated Edge Screws driven into the edge of the board. If you prefer a face-fastened deck, secure boards with the innovative Collated Face Screws that are available in two varieties for pressure treated and composite decking. The pressure treated screws feature a rake tip to auger wood out of the board to reduce splitting and cracking, while the composite screws have a fast-starting slash point to eliminate board mushrooming. For any screw install, keep in mind that the DRIVE tool leaves no spacing between boards, so you may need secondary spacers to follow the board manufacturer's guidelines. Finally, if you're installing grooved decking, use DRIVE to speed up fastening CAMO Universal Deck Clips. That's a triple-threat tool worthy of placement in any tool crib.
CAMO MARKSMAN HIDDEN EDGE SCREW FASTENING SYSTEM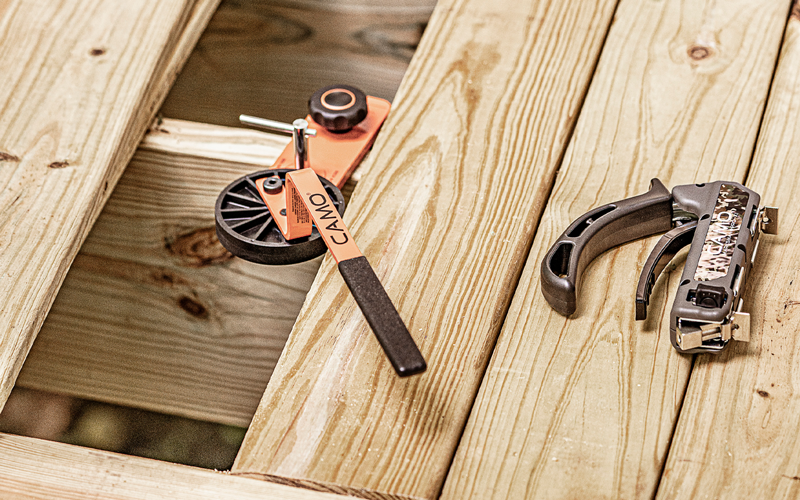 bend & lock boards with Lever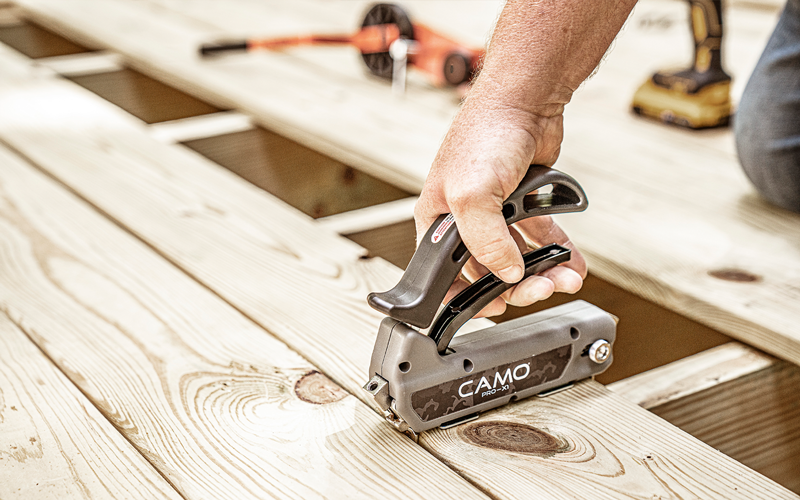 place marksman tool
drive edge screws through the guides
For a craftsman's experience installing decking that can still be completed in a few hours, pick up the CAMO MARKSMAN Hidden Edge Screw Fastening System. This hand-driven system of MARKSMAN tools and Edge screws is an economical and perfect way to achieve a fastener-free surface that won't split, crack, or splinter on any square deck board.
The heavy-duty MARKSMAN tools clamp to the deck board and create spacing between boards. They feature screw channels that direct the Edge screws into the board's edge, creating a strong v-lock connection into the joist while leaving a hidden fastener finish. The best part? There's no pre-drilling required for pressure treated, cedar, redwood, PVC, and uncapped composite boards as the Edge screw scrapes and penetrates the board with light pressure. However, given the density of capped composites and hardwoods, we recommend pre-drilling these boards, which is as easy as running the pre-drill bit through the screw channel before dropping in the Edge screws.
There's a MARKSMAN Tool to fit and space any board. The MARKSMAN Pro® is for composite, PVC, capped composite, cedar, redwood, hardwood, and KDAT deck boards that require 3/16 in. spacing. Use the MARKSMAN Pro®-X1 to achieve 1/16 in. spacing with pressure treated deck boards. The MARKSMAN Pro®-NB creates 3/16 in. spacing for narrow composite, PVC, capped composite, cedar, redwood, hardwood, and KDAT deck boards. Finally, the MARKSMAN Edge single-shot tool attaches to your drill and leaves no space between pressure treated deck boards.
To sum it up, the MARKSMAN System has an affordable price point, is easy to use, creates strong connections, and results in a beautiful fastener-free and long-lasting surface, great for any deck builder.
So when it comes to picking the right system for your crew, it all comes down to function. But no matter what CAMO deck fastening system you choose, you'll experience huge time-savings and excellent performance, which is why it's the better way to build a deck.