Not all hidden deck clips were created equal. Here's an introduction to the top hidden deck clips on the market so you can select the correct fastener for your build.
High-quality grooved composite decking deserves fasteners that will keep the boards in place and help maximize the deck's longevity. But with such a wide variety of deck clips on the market, how do you choose the right one that's sure to be easy to install and perform over time?
Let's take a look at some of the most popular types of hidden deck clips and compare their design, price, and performance so you can choose the best fastener for your build.
Plastic Clips: Trex® Hideaway® and TurboClip™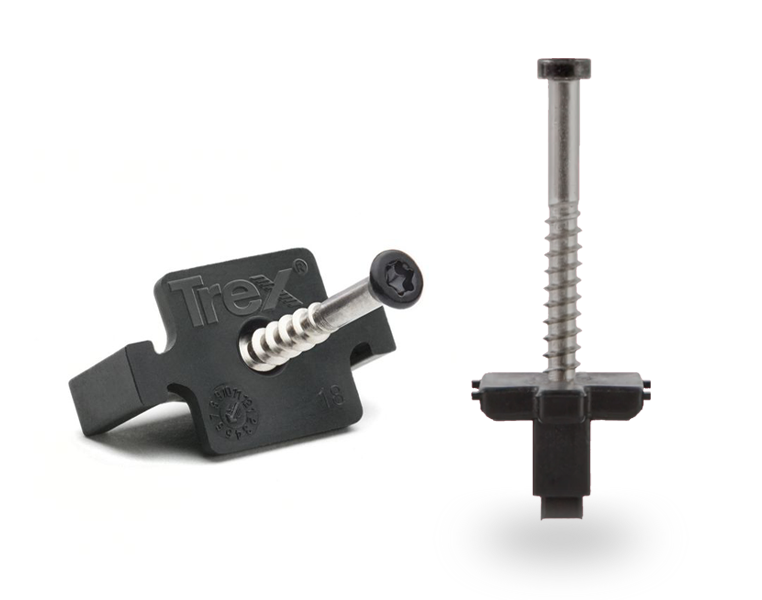 One of the most commonly-used deck clips, the Trex Hideaway, is made of plastic. These clips are inexpensive at around $0.50 per fastener, they create a 3/16 in. gap between boards, and are widely accessible and versatile, and are able to be used with multiple brands of grooved decking.
While its basic design aids in a low cost and versatility, it can hinder the installation experience. The Trex Hideaway Universal Hidden Fastener requires two steps for installation: first, place your board, set a clip in the joist, and fasten the screw part of the way. Then, you must place your next board before driving the screw the rest of the way. That's a lot of time hunched over and matching the bit to the screw. 
Trex does have the One-Step Hidden Fastener Tool to eliminate this two-step process. The tool costs around $25 and holds the fastener correctly in the board so you can secure it once. However, while it saves some time compared to partial installation, you still have to load a clip each time, which can be tedious.
TurboClips are an alternative plastic fastener that eliminates the need for a partial installation. TurboClips come in a strip of 16 that saves you time from fumbling for a clip at each joist. Instead, you can place the fastener into the board, fasten it entirely, snap off the stick, then slide your next board in place.
Once installed, plastic clips don't offer much lateral holding power, so as the boards expand and contract, they are more likely to shift over time. Plus, the body of the clip doesn't completely cover the joist, so you will see both the black plastic and wood between the boards, which isn't the most aesthetically pleasing.
Metal Clips: Tiger Claw and CONCEALoc®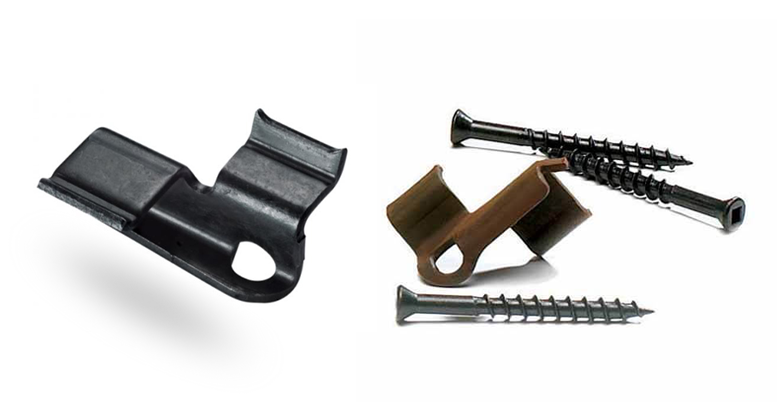 The alternative to plastic is metal fasteners with prongs that fit into the board's groove and are fastened by a screw in hand drive applications or a scrail if you use a pneumatic gun. Tiger Claw TC-G Hidden Deck Fasteners cost around $0.50 per hand-driven fastener and $0.65 per pneumatic fastener and are compatible with multiple types of grooved composite boards. The other popular option— CONCEALoc Clips —are designed for AZEK® TimberTech® boards that cost around $0.81 per hand-driven fastener and $0.79 per pneumatic fastener.
While no partial installation is needed with metal clips, be prepared for a slow install by hand. It takes time and precision to place the clip centered on the joist and drive the fastener at a 45-degree angle. Luckily, the pneumatic Tiger Claw gun significantly speeds up installation. However, you still have to load a new clip every time before firing, and it comes with a $470 price tag—an investment that's only worth it if you build multiple decks.
Thanks to their design, metal clips offer a strong hold for lateral movement; however, they make it very difficult to replace a board if needed, as you have to remove the entire field of boards to get to the one you need to replace. In addition, the metal clips can tilt when installed, so you may not get consistent spacing between boards. And, just like plastic deck clips, metal fasteners don't cover the joist completely.
Plastic and Metal Clips: CAMO® Universal Deck Clips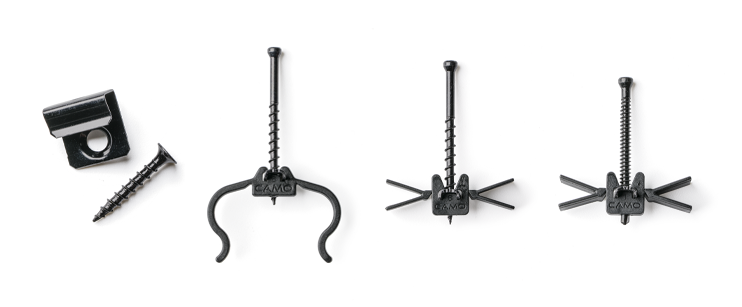 One of the most innovative deck clips on the market combines plastic and metal to bring an easy installation and strong holding power to any grooved deck build. CAMO Universal Deck Clips, which include EDGE® Clips for 90° deck patterns and EDGEX® Clips for any deck pattern on wood joists, and EDGEXMETAL® Clips for installs on metal joists, cost around $0.50 per fastener and are fast to install.
CAMO Universal Deck Clips are easy to handle and stay in place—no partial installation needed. The plastic legs of the EDGE Clip sit on the joist while the wings of the EDGEX Clip fit in the board's groove, so you can quickly place them with one hand and set rows of boards and clips in place before fastening. The plastic clip body covers the joist completely and creates consistent 3/16 in. spacing, while the stainless steel gusset holds the boards down. As a result, they are 88% stronger than competitors' clips in reducing lateral movement and up to 50% stronger in uplift holding power. Given its top-down access, it's also easy to back out the screws, slide out the clips, and replace a board if needed.
To help speed up installs even more, each pail of CAMO Universal Deck Clips comes with a NEVER-MISS Guide that sits over the screw, so you can quickly direct the bit onto the top of the screw. For the fastest installation, you can use the CAMO ClipDRIVE® or DRIVE stand-up tools that are around $130 and $185, respectively, so you can fasten while moving from joist to joist—an excellent investment for any deck builder.
So when choosing a hidden fastener for your grooved deck build, don't settle for any clip to do the job. Instead, consider the installation experience and how the fasteners will hold up over time so you can be confident you've built a better deck.