BUILD LIKE A
BEAST
Code-crushing Structural Screws hold STRONGER, drive FASTER, last LONGER, and perform BETTER.
WATCH NOW
CODE CRUSHER
Our screws don't just meet code, they CRUSH it. Rigorously third-party tested and certified, our screws are best in class and we've got the numbers to prove it. Have confidence knowing your project – and your reputation – has a rock solid foundation.

MOTHER OF ALL COATINGS
Why settle for one or two when you can have FOUR – four layers of corrosion-fighting, UV-resisting, performance-enhancing coating for long-lasting connections. Tested longer than any other, our PROTECH™ Ultra 4 Coating is second to none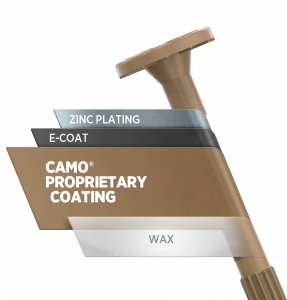 RIGOROUSLY TESTED
We have the only structural screw coating on the market tested to ASTM G198 standard, which requires 2X longer testing and 3X more samples than industry standard. We went the extra mile so you can sleep better knowing your structural connections will last.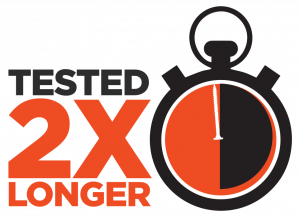 BUILT LIKE A BEAST
From head to tip, our screws are built to start faster, drive easier, and hold stronger. So you can get your job done right and get on your way.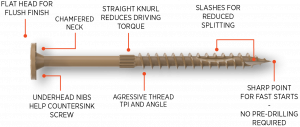 A BRAND YOU TRUST
We built a name on the deck top, and we're delivering that same reliability and durability to the substructure and beyond. And we've got your back – our structural screws are guaranteed by a lifetime warranty. Trust CAMO when your connections count.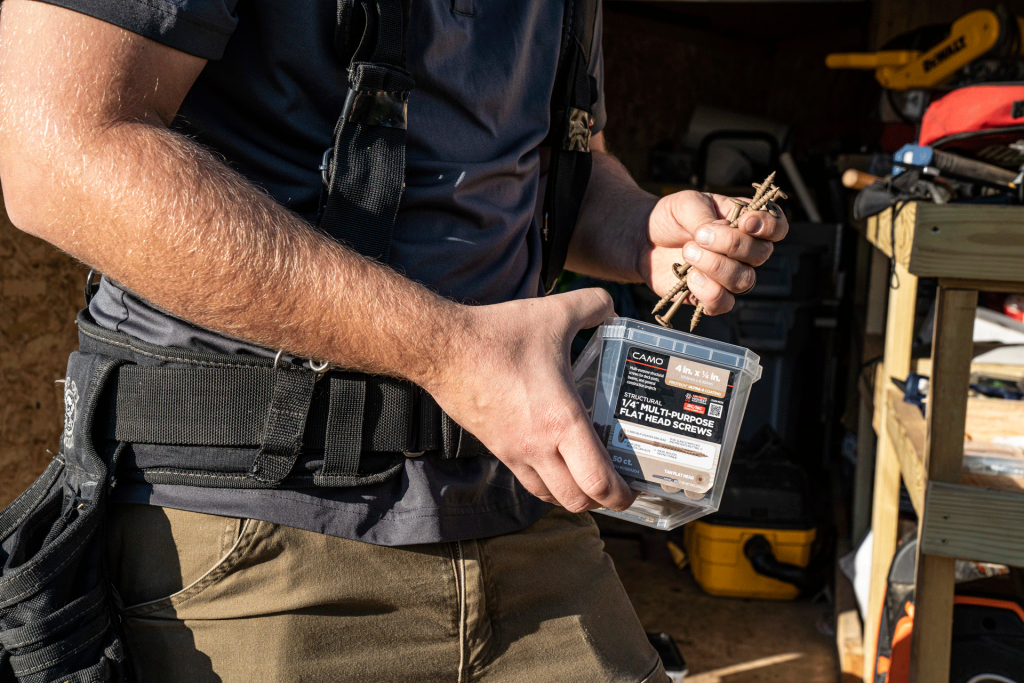 DURABLE PACKAGING
Our structural screws are packed in durable clamshells and plastic nesting pails. From the shelf, to the bed of your truck, to the jobsite – our pails travel well.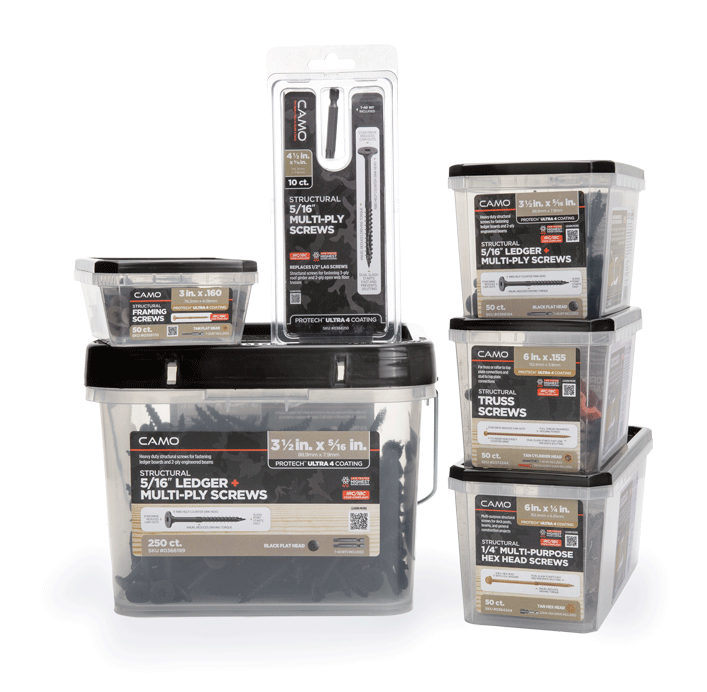 DOUBLE-DUTY
Every CAMO Structural Screw is coated with PROTECH Ultra 4 exterior-grade coating or Hot-Dip Galvanized and approved for use in interior and exterior applications. So you can use the same screws for more than one job – saving you time in the aisle and space in your tool crib.

CODE + TECHNICAL DOCUMENTS
TER REPORTS
CLICK ON INDIVIDUAL REPORT FOR FULL PDF
TECHNICAL BULLETINS
CLICK ON INDIVIDUAL BULLETIN FOR FULL PDF
Want to learn more?
Send us a message, and we'll be in touch soon.
Shop the entire system to start building better
Check out our family of Universal Deck Clips, the LEVER® board bending and locking tool, and more.